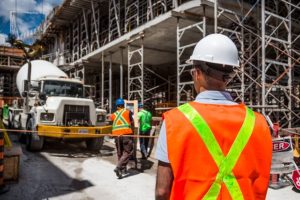 As of 2017, Sacramento has several great construction projects taking place. We have Ice Blocks coming to Midtown, repairs taking place on streets, bridges and sewer systems, Downtown Commons, medical office construction at Kaiser Permanente and also construction taking place at other apartment complexes, shopping centers and grocery stores.
Even with safety precautions in place, due to the nature of the job, construction workers will get injured. In fact, construction workers have the highest rate of workers' compensation claims in the country.
After sustaining an injury that puts them out of work, many construction workers wonder if they have a workers' compensation claim, or something more, such as a personal injury claim.
In General
After any injury on the job, call us for a free, confidential consultation and we will be happy to  go over your options with you.
This is not legal advice and we prefer you call, but in general:
If a construction worker is injured in the course and scope of their employment by an anticipated and foreseeable risk of that employment, the general rule is that his or her sole and exclusive remedy is through California's workers' compensation laws. For example, if through is own negligence, a construction worker falls down some stairs of the facility he works at and tears cartilage in his knee, his sole and exclusive remedy is through the California Workers' Compensation Act.
If your injuries were due to the negligence of a third party like a parts delivery truck driver who doesn't work for the same company that you work for, the door opens for you to be able to file an actual personal injury lawsuit in a court of law. Unlike workers' compensation claims, California law allows you to seek unlimited compensation for your damages when a third party was the cause of your construction site work injuries. Like workers' compensation laws, you're allowed to receive an award for medical bills and lost earnings, but third party liability law allows an injured construction worker to collect other damages such as pain and suffering, loss of a normal life and unlimited compensation for permanent disfigurement or disability.
Contact a Sacramento Workers' Compensation Lawyer Today
In almost every case, an injured construction worker will get the best possible outcome by retaining a lawyer.
If you've been injured in a construction accident anywhere in or around Sacramento, give yourself the best chance at becoming whole again by contacting us by phone or email to arrange for a free consultation and case evaluation.
Sacramento's construction workers suffer serious injuries at work every day. Experienced legal professionals know how both the workers' compensation and personal injury processes work. Whether your case involves workers' compensation or personal injury law, you'll get turned in the right direction fast.