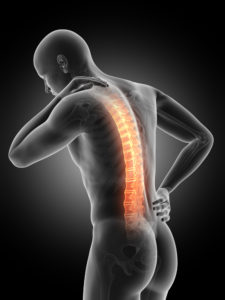 If you have a back injury and live or work in the Sacramento area, contact Sacramento Workers' Compensation Attorney Alice A. Strömbom today for a free case evaluation. She is one of Sacramento's leading work injury attorneys and works exclusively with injured workers and protects worker's rights to compensation.
Back Injuries
In California, the construction industry is always one of the most dangerous industries to be employed in, and that's just one of the jobs where a worker may hurt their back. Different job duties for tradesmen and laborers like lifting, carrying, raising and lowering heavy items while twisting and bending can cause serious back injuries, some of which might require surgery.
Don't expect a back injury to be limited to your back. Depending on the location of a back injury, pressure can be put on spinal nerves. That's likely to result in radiating pain in the neck, arms, buttocks and legs. It might even alternate between pain, numbness and tingling.
Depending on how an accident and injury occurred, a back injury can range from mild strains and sprains to catastrophic paralysis. Then there are the bulging and herniated spinal discs or even spinal fractures in a serious accident. Most of those will eventually require surgery. The exact source of back pain might be difficult to pinpoint without expensive MRI diagnostic studies. Of course, an employer's insurer might not want to pay for those studies. Instead, it will argue that if there is a back injury, it likely isn't work-related, or your pain is simply a result of the aging process. Be prepared to encounter every legal attempt at devaluing your claim. You're going to need efficient and effective legal help.
Contact a Sacramento Workers' Compensation Lawyer Today
In almost all cases when someone is injured on the job, the worker will get the best possible outcome by hiring an experienced workers' compensation lawyer.
Attorney Alice A. Strömbom focuses exclusively on Workers' Compensation Law. She is very familiar with the tactics insurance companies use to avoid providing the medical treatment and disability benefits injured workers deserve, and has a recognized track record in combating such issues.
Contact us today for a free, confidential consultation and case evaluation.